Extinguisher Cabinets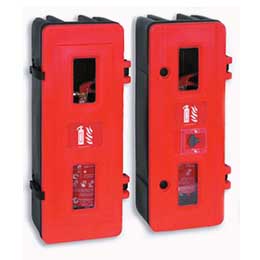 Store and protect your fire extinguishers in high quality cabinets. Ideal for busy locations where your extinguishers may easily get damaged or accidentally discharged or where they may be open to the elements. Single, double or vehicle models available.
Wall, floor or vehicle mounting options.
Internal retaining straps.
Extremely tough rotationally moulded plastic.
Neoprene weather seal around door.
Vision panel for easy extinguisher status check.
Enquire About This Product