Extinguisher Stands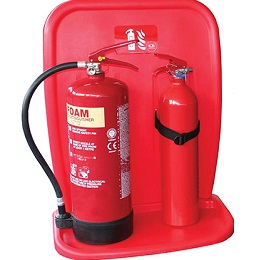 Extinguisher Stands
Why use stands?
Extinguishers need a permanent home so that they are not misplaced or used as doorstops.
Stands have several benefits over wall fixing: -
No damage to walls.
Removes risk of extinguisher being torn out of wall by passing trolleys etc.
Ideal where walls are unstable or dry lined.
Easily re-positioned to accommodate changing office layout.
Constructed from tough and durable non GRP plastic - suitable for food preparation areas.
Smart easy to maintain appearance.
Available in red or silver-grey.
Extinguisher identification sign can be fixed at the top of the stand.
Double stands can be provided with eyelets and tags to prevent accidental swapping of the extinguishers and keep them from being used as door stops!

Enquire About This Product