Fire Buckets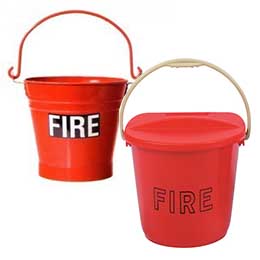 A Fire Bucket is filled with sand or water and is used to extinguish fires. Sand is often used where there is a risk of spilled flammable liquid which might ignite and spread by flowing across the ground. The sand is deployed to act as a barrier to the flowing liquid.
Water filled fire buckets are sometimes used where a water extinguisher might not be convenient, or where a supplement is prudent.
Both plastic and metal fire buckets are available:
Usually filled with sand to stop flammable liquids from spreading.
Suitable for garage forecourts and car parks.
Wall bracket available separately.
Enquire About This Product