Why do fire extinguishers need to be serviced?
15th Jul 2021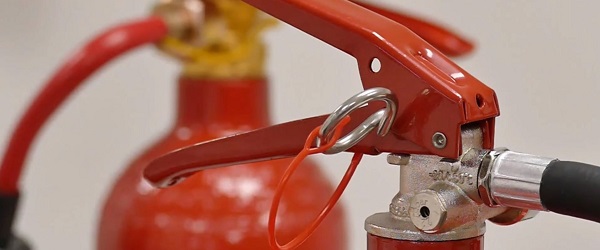 Fire extinguishers are often taken for granted and indeed we pass them in the corridor so often that we cease to notice them. In fact, they are vital pieces of equipment that protect your business, staff and visitors. If your extinguishers are not regularly checked to ensure they are in working order it could result in disaster. Having your equipment serviced is extremely important.
The Regulatory Reform (Fire Safety) Order 2005 requires that fire extinguishers and other installed fire equipment must be fit for purpose, properly installed and maintained following the manufacturers' instructions or relevant British Standard Code of Practice.
You need to make sure that your extinguishers can be readily accessed at all times and will work when you need them. With regular maintenance and visual inspections in-house your fire extinguishers can be long lasting and reliable for fighting small fires early on.
Even though the majority of the service procedure will be overall similar for each type of fire extinguisher, the exact steps taken will vary depending on the type of fire extinguisher being serviced. Here are the main things the service technician will be looking out for when servicing a fire extinguisher:
Internal Damage
Over time, deterioration or damage can appear in hard to see areas. For example, corrosion to aluminium, steel and even plastic can occur on the inside of the cylinder or the operating mechanism. If left undiscovered, this could cause the extinguisher to fail when operated.
Another area where it can be hard to see a problem is the discharge hose on the extinguisher. Even when not used, debris or insects can get lodged in the hose, which could reduce the efficiency of the extinguisher when used.
Leaks
Modern fire extinguishers are pressurised and most have a pressure gauge. However, gauges sometimes fail. An engineer can check to see if the extinguisher has actually lost pressure or if the problem is a faulty gauge. (This doesn't apply to CO2 extinguishers, which operate at very high pressure and have no gauge).
download our free monthly fire extinguisher checklist here.
Labels
If you have never had to use a fire extinguisher, it doesn't mean it doesn't need to be checked. Like everything, extinguishers will experience wear and tear especially if outside or in an active setting.
It is very important to make sure that all labels on the extinguisher are legible as they contain important instructions for the proper use and a record of maintenance. Also, they let the service technician see important information.
Recharging
Any time a fire extinguisher discharges—even for a short burst—it should be serviced, recharged or replaced.
Even though a fire extinguisher pressure gauge might show there is enough gas in there, it could still leak over time after any use, so it is best to get the fire extinguisher serviced.
If you notice that your fire extinguishers have not been serviced for a while or you're unsure when they were last checked over, give our team a call or contact us to schedule a check as soon as possible.