Should you have a fire extinguisher in your home?
2nd Aug 2021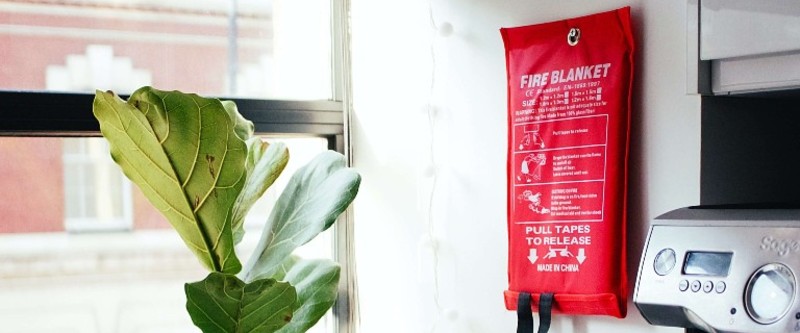 There are many ways a fire could start in your own home such as faulty electrical goods, candles, fireplaces that are left burning, and leaving cooking appliances unattended to name a few.
While you will still need to call 999 in an emergency, having a fire extinguisher in your home could help you to put out a small contained fire. Installing fire extinguishers is an effective and affordable way to increase fire safety at home.
Fire hazards in the home
There are various types of fire extinguishers that can be used depending on the nature of the fire. Before choosing which kind of fire extinguisher you want for your home, you may need to consider what they can be used for. Our previous article 'Fire Extinguisher Types and When to Use Them' will tell you all about the differences between fire extinguishers and help you decide which you may need.
1. Cooking appliances
Almost half of all domestic fires are caused by cooking appliances. There are many ways a fire can start in the kitchen, ranging from loose clothing and tea towels getting into contact with the hob, to grease and fat igniting while you're cooking.
Fire blankets are commonly installed in kitchens and work well for putting out fires in a fryer or pan.
2. Smoking
Smoking in the home is a major fire hazard. If your cigarette isn't disposed of properly you can risk a fire starting. Smoking indoors is a bad idea - if you fall asleep before the cigarette is out you could put yourself in serious danger.
Even if you vape or use e-cigarettes there are still fire risks involved. If there are issues with the batteries or the product is faulty, or you leave it charging too long, a fire can still be caused.
3. Electrical products
Electrical products that are faulty or counterfeit items that don't work properly, products being left on too long and overheating, overloading extension leads and sockets are all prime examples of when an electrical fire could start.
You should always make sure that any electrical products you use have been safety checked (there should be a British or European safety mark when purchased) and that you don't misuse your electrical items.
4. Candles and open flames
You should always take extra care when there are any kinds of naked flames in your home. Make sure you have a fireguard if you have an open fireplace. Candles should be placed in a non-flammable container where they can't be knocked over. Children, pets, and flammable objects should be kept well away from open flames and the flames themselves should be put out before you leave the room or before you go to sleep.

Having a fire extinguisher in your home can make a huge difference in an emergency and improve your fire safety. To find a fire extinguisher for your home check out our range or contact us for more information.