What Type of Fire Extinguisher Do I Need?
21st Feb 2018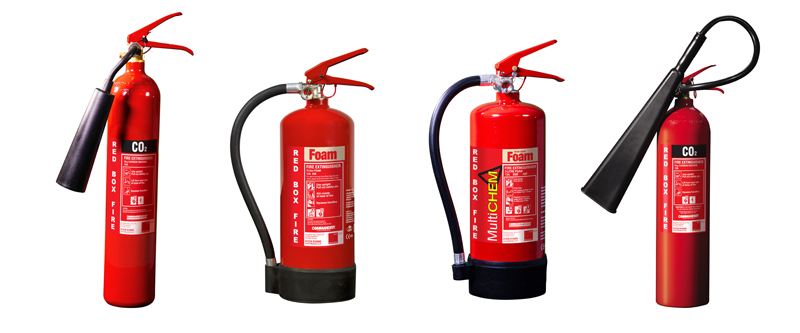 Ensuring that you have the right fire extinguishers installed in your commercial premises is an important part of creating a safe working environment.
Of course it's vital to comply with Fire Safety Legislation. However having the correct equipment installed will also give you peace of mind from knowing that you have minimised the risk of harm to staff and property caused by incorrect extinguisher selection.
What types of Fire Extinguisher are there?
There are five main types of fire extinguisher.
Water (including water with additive)
Dry Powder (including specialist types for specific risks)
Foam
CO2
Wet Chemical
There is no single type of fire extinguisher which is suitable for all classes of fire, so many premises have more than one type.
Additionally there are other fire extinguishing products, such as fire blankets and the rudimentary fire bucket.
Having functioning and fully serviced fire extinguishers throughout a business forms a key part of any fire risk assessment. Businesses looking to complete this in-house may benefit from reading our free checklist outlining exactly what must be included.
How many Different Types of Fire are there?
Fires types are defined by the fuel source and are broken down into 5 different classes: -
Class A – Combustible materials such as wood, paper and fabric.
Class B – Flammable liquids such as petrol and paint.
Class C – Flammable gases such as methane and propane.
Class D – Combustible metals - Lithium, Potassium, and Magnesium.
Class F – Cooking oils and fats.

In addition, account must be taken of the presence of live electrical current, which with wet extinguisher media could cause an electrical shock to the user by conduction.
Electrical risk is not categorised as a separate class of fire as the electricity itself doesn't constitute a fire, it's the burning fuel that defines the class of fire.
What happens if you use the Wrong Extinguisher for the Type of Fire?
Using the wrong type of extinguisher for the fire you have can make fires worse, and put people at risk – especially the person using the wrong extinguisher. For example, as outlined above, using a standard water extinguisher on electrical equipment can put themselves in direct contact with mains current. Using most types of extinguisher on a deep fat fire is particularly dangerous. The impact of the extinguishing agent on the very hot burning oil will cause an eruption of the oil which can cause serious burns and spread the fire.
What Fire Extinguisher do I Need?
The type of Fire Extinguisher you will require will depend entirely on the fire risks which have been identified at your premises during your most recent fire risk assessment.
Choose a BAFE Approved Company to Assess your Needs
It's best not to risk something as important as fire safety. Places of business should ideally have a survey conducted by a BAFE (British Approvals for Fire Equipment) approved company, such as Red Box Fire Control, who will be able to assess which fires the premises may be susceptible to, and then identify which fire extinguishers will be needed. This way there will be no doubt.
The fire extinguishers will then be placed for you in the appropriate positions and at the correct heights. There are British Standard guidelines as to how high off the ground different types of extinguishers should be fixed.
Red Box Fire Control can also offer maintenance and servicing of your fire extinguishers and we also provide a fire extinguisher hire service.
If you need our expert help with your extinguisher provision contact our friendly, knowledgeable team today.