What is Fire Extinguisher Maintenance?
13th Feb 2018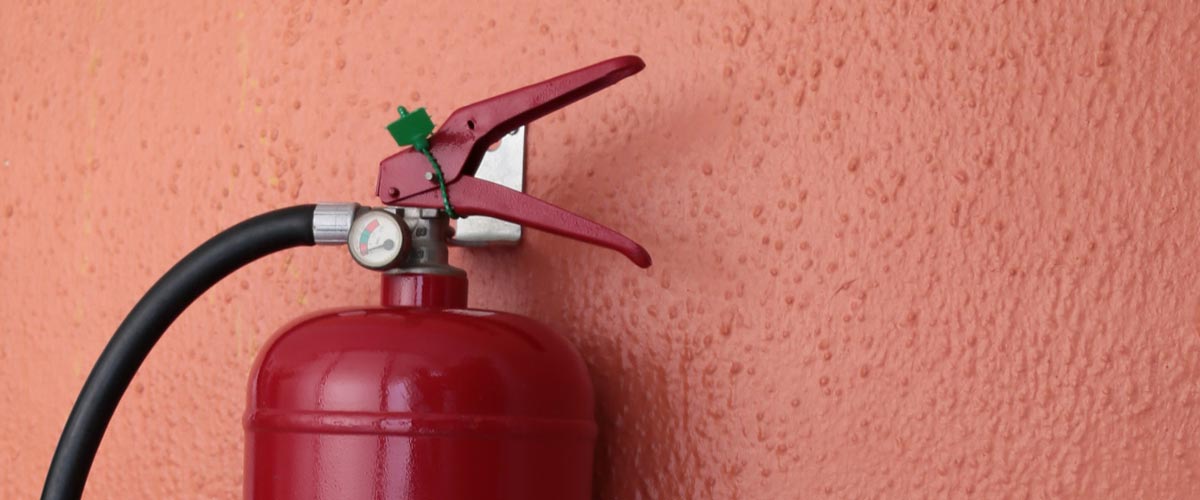 In order for your business to be compliant with British Standard (BS) 5306:3 2009, the fire extinguishers within your business need to be serviced every 12 months. This is because fire extinguishers are a pressurised container and we rely on that pressure to put out fires. Since pressurised things have a tendency to leak, it's essential that they are maintained regularly so that they function when required. You can read about these requirements and why it's necessary in our blog here.
Fire extinguisher maintenance has to be done regularly, by a "competent person". This is someone who's experienced and trained in fire extinguisher maintenance. Whilst there's no legal education or training level requirement, a number of third party schemes are available which hold companies to high standards – Such as BAFE. You can read all about third party accreditation schemes here.
The first port of call for a fire extinguisher technician is to check whether the fire extinguisher has been used at all, even if only a small amount. This is checked by ensuring that the safety pin and tamper seal are in-place and unbroken. It is also checked (with the exception of Co2 extinguishers) by using the pressure gauge on the side to ensure that the pressure is in the green. If a fire extinguisher has been used it needs to be recharged, or simply replaced.
Visual Inspection
The maintenance part begins with a visual inspection. Your technician should check over the entirety of the outside of the extinguisher, looking for corrosion, damage body and valve assembly and anything else that might affect the integrity and performance of the extinguisher. An extinguisher's body holds high pressure, so naturally anything that might affect this is a hazard and needs to be managed correctly.
In addition, the technician should ensure that the instructions on the extinguishers are clear and legible. These instructions are vital in an emergency situation. Over time sunlight, wear and tear can render them useless. If they're no longer easy to read, a new set of instructions must be applied or the extinguisher replaced.
Check for Blockages
A blockage in the hose will affect the performance of the extinguisher and so it's important to ensure that it is clear. You never know what may find itself into the hose or horn of a fire extinguisher. It could be debris or insects, or even someone inserting a foreign object.
Your fire extinguisher technician will fully remove the hose from the extinguisher and check for anything that should be there.
Fire extinguishers are an important part of fire risk assessments which have become a legal requirement for any business employing five or more members of staff. Find out more about the professional Fire Risk Assessment Service that we offer here.
Weighing the extinguisher
The universally used method of checking a fire extinguisher's content is to weigh it. Your fire extinguisher will have a small record label on it, this notes its weight at every inspection. If your extinguisher were to begin leaking it becomes lighter. This coupled with an inspection of the pressure gauge where fitted, is the way to test for potential leaks.
If the extinguisher has lost more than 10% of its weight over its lifetime, the matter should be investigated and the extinguisher recharged.
Often a more extensive fire extinguisher maintenance may be in order. Whilst this involves all of the above, it will also involve completely discharging the extinguisher and dismantling it to check the interior and working parts for signs of corrosion or malfunction.
The technician will then replace all the o-rings used in the extinguisher. This will prevent it from leaking in the immediate future and prolongs its life. Finally, the extinguisher is re-filled back to specification and tested for leaks.
As a final item on a Fire Extinguisher Technicians checklist, they will ensure that the wall brackets are secure. Whilst mountings may appear sufficient to hold the weight of the fire extinguisher, they need to be able to withstand everyday bumps and knocks such as from cleaning or stationery carts. It's not uncommon to find an extinguisher that has become displaced and moved to an unsuitable location as a result!
Where there is potential for this problem to occur, your Extinguisher Technician may recommend the use of floor based extinguisher stands.